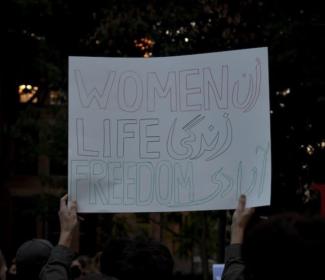 The History Department of the University of Pennsylvania strongly condemns the brutal murder of Kurdish-Iranian woman, Mahsa Zhina Amini, and the attacks on protestors throughout Iran by the Islamic Republic. On 13 September 2022 Amini was arrested by the government's notorious Morality Police, and she was violently beaten while in custody and later died. The unjust killing of Amini has unleashed widespread and spontaneous uprisings throughout the country to remonstrate against her murder and to call for freedom in Iran. The security forces of the Islamic Republic have violently attempted to tamp down on the uprisings, but the protestors have continued their brave fight undeterred.
Around the world Iranians and their defenders have spoken out against the appalling killing of Amini, as well as in support of the valiant struggles of Iranian women and people. These demonstrators have risked their lives and livelihood to demand justice and freedom from a repressive regime that has failed to address their grievances. Iran's women and the youth especially have chafed under the strictures of an authoritarian government that has silenced their voices and dulled their aspirations for a better future.  
In the last 24 hours the security forces of the Islamic Republic have viciously attacked and trapped many students on the grounds of Sharif University, Iran's premier institution of higher education. Clashes and demonstrations have occurred on Iran's other university campuses. Iranians both inside and outside the country have denounced this clampdown and have shown resolve and unprecedented unity and support for these protests by holding demonstrations in major cities. According to recent media reports and video footage released by those in Iran, the security forces of the Islamic Republic have arrested and used teargas against the demonstrators, and attacked many of the protestors. The Islamic Republic has not issued an official death toll, but various advocacy groups have indicated that close to 200 people have already been killed in these clashes and that countless others have been arrested and injured.
The protests in Iran have garnered worldwide support as the first women's revolution. This movement, whose symbol is a slain woman, was instigated and led by women, but joined by all freedom lovers around the world. The mantra, "Woman. Life. Freedom," has been chanted in capitals throughout the world and has been translated into multiple languages. This fight has expanded to include freedom and enfranchisement for all marginalized groups.
Penn's History Department denounces the contemptible attacks on Mahsa Amini and her defenders in Iran and stands in solidarity with the students, faculty, and women of Iran who have bravely resisted repression in the Islamic Republic.
"Those who would give up essential Liberty, to purchase a little temporary Safety, deserve neither Liberty nor Safety."  -- Benjamin Franklin
Woman. Life. Freedom.
زن. زندگی. آزادی.