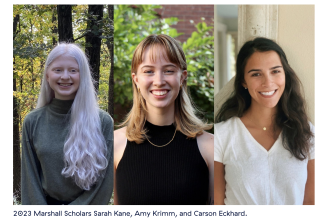 University of Pennsylvania fourth-years Sarah Kane and Amy Krimm and 2021 graduate Carson Eckhard have been named 2023 Marshall Scholars. Established by the British government, the Marshall Scholarship funds as many as three years of study for a graduate degree in any field at an institution in the United Kingdom.
Kane, Krimm, and Eckhard are among the 40 Marshall Scholars for 2023 representing 32 institutions in the United States. The prestigious scholarship, meant to strengthen U.S.-U.K. relations, is offered to as many as 50 Americans each year.
Kane, from Mendham, New Jersey, is majoring in physics with a concentration in astrophysics in the College of Arts and Sciences. She started her astronomy research with Bhuvnesh Jain through the Penn Undergraduate Research Mentoring program in 2020 and worked with him through May. Last summer she was a scholar working with astronomy faculty at the University of Texas at Austin, funded by the National Science Foundation and U.S. Department of Defense. Kane has continued her summer research through a senior honors thesis co-advised by assistant professors Keith Hawkins of UT Austin and Robyn Sanderson of Penn.
A member of Phi Beta Kappa, Kane is the recipient of the School of Arts & Sciences' Roy and Diana Vagelos Science Challenge Award and the Thomas H. Wood Prize in the Department of Physics and Astronomy, as well as the Michael J. McGowan Leadership Scholarship awarded by the National Organization for Albinism and Hypopigmentation (NOAH). In addition to her academic and research activities, Kane is the co-director of Science Olympiad at Penn's Urban Initiative, which offers after-school science programming in Philadelphia public schools. She is the co-president of J-Bagel, Penn's Jewish and LGBTQ+ affinity student group, and a Research Peer Advisor with the Center for Undergraduate Research and Fellowships (CURF). She is also the co-founder and co-host of NOAH STEM Connections.
As a Marshall Scholar, she plans to study for her Ph.D. at the Institute of Astronomy at the University of Cambridge.
Krimm, from Silver Spring, Maryland, is a fourth-year majoring in visual studies with a concentration in the philosophy and science of seeing and minoring in American Sign Language and Deaf studies in the College of Arts and Sciences. Krimm is interested in exploring the relationship between art and science, specifically how both fields can be used to strengthen and inform the other. As a research assistant at the Penn Center for Neuroaesthetics in Penn's Perelman School of Medicine, Krimm studies the differences in how people engage with art in a museum vs. digital context.
Krimm is a co-director for the Civic House Community Engagement Program where she serves as the community partner coordinator for Moder Patshala. She is also a student leader for the PennCORP pre-orientation program, a College peer advisor, a writing fellow at Penn's Marks Family Writing Center, an illustrator for the student-run 34th Street Magazine, a student board member for the Institute of Contemporary Art, and a figure skating coach at the Class of 1923 Arena. A SNF Paideia Fellow, Krimm is dedicated to using their background as an artist to promote dialogue between disciplines with the goal of using art to promote community wellness and identity formation.
With the Marshall, Krimm plans to pursue master's degrees in psychology of the arts, neuroaesthetics, and creativity at Goldsmiths, University of London and in fine arts at Lancaster University.
Eckhard, from Tampa, Florida, graduated summa cum laude in 2021 from the College of Arts and Sciences with honors in history and English. Eckhard currently works as the practice assistant for McDermott, Will & Emery's Supreme Court Practice in Washington, D.C., and serves as vice chair of The Liberation Foundation in Philadelphia. In 2021, Eckhard and two fourth-year classmates were awarded Penn's President's Engagement Prize to form Project HOPE to address the lack of reentry support for Pennsylvanians preparing to return from incarceration. The project grew from work Eckhard did with exoneree Terrance Lewis to establish The Liberation Foundation, a nonprofit that advocates for incarcerated Pennsylvanians.
While at Penn, Eckhard was a youth leader for Vote That Jawn and a researcher on the Penn & Slavery Project. She was a Dean's Scholar, a University Scholar, a Mellon Mays Undergraduate Fellow, an Andrea Mitchell Research Fellow, and a member of Phi Beta Kappa. She was chair of the Student Committee on Undergraduate Education and a co-president of the student group Beyond Arrests: Rethinking Systematic Oppression. Committed to criminal justice reform, Eckhard also interned at the Conviction Integrity Unit in the Philadelphia District Attorney's Office and at the Philadelphia Reentry Coalition.
With the Marshall, she plans to pursue master's degrees in economic and social history at University of Edinburgh and socio-legal research at the University of Oxford.
Kane, Krimm, and Eckhard applied for the Marshall Scholarship with assistance from the Center for Undergraduate Research and Fellowships. Penn has had 24 Marshall Scholars since the scholarship's inception in 1953.
Credit: Amanda Mott