One Nation Divisible: What America Was and What It Is Becoming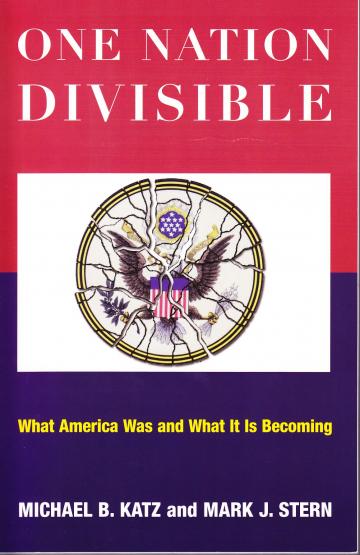 2008
Russell Sage Foundation Publications
American society today is hardly recognizable from what it was a century ago. Integrated schools, an information economy, and independently successful women are but a few of the remarkable changes that have occurred over just a few generations. Still, the country today is influenced by many of the same factors that revolutionized life in the late nineteenth century—immigration, globalization, technology, and shifting social norms—and is plagued by many of the same problems, including economic, social, and racial inequality. One Nation Divisible, a sweeping history of twentieth-century American life by Michael Katz and Mark Stern, weaves together information from the latest census with a century's worth of data to show how trends in American life have changed while inequality and diversity have endured.
One Nation Divisible examines all aspects of work, family, and social life to paint a broad picture of the American experience over the long arc of the twentieth century. Katz and Stern track the transformations of the U.S. workforce, from the farm to the factory to the office tower. Technological advances at the beginning and end of the twentieth century altered the demand for work, causing large population movements between regions. These labor market shifts fed both the explosive growth of cities at the dawn of the industrial age and the sprawling suburbanization of today. One Nation Divisible also discusses how the norms of growing up and growing old have shifted. Whereas the typical life course once involved early marriage and living with large, extended families, Americans today commonly take years before marrying or settling on a career path, and often live in non-traditional households. Katz and Stern examine the growing influence of government on trends in American life, showing how new laws have contributed to more diverse neighborhoods and schools, and increased opportunity for minorities, women, and the elderly. One Nation Divisible also explores the abiding economic paradox in American life: while many individuals are able to climb the financial ladder, inequality of income and wealth remains pervasive throughout the society.
The last hundred years have been marked by incredible transformations in American society. Great advances in civil rights and have been tempered significantly by rising economic inequality. One Nation Divisible provides a compelling new analysis of the issues that continue to divide this country and the powerful role of government in both mitigating and exacerbating them.