Soldier from the War Returning: The Greatest Generation's Troubled Homecoming from World War II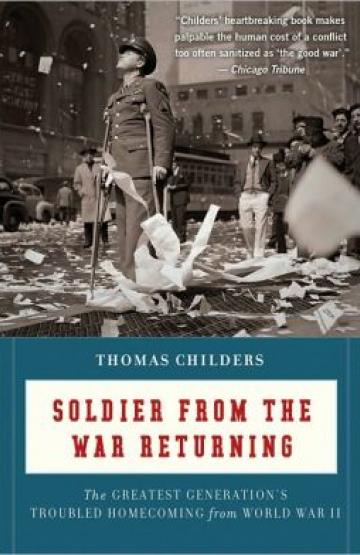 2010
Mariner Books
One of our most enduring national myths surrounds the men and women who fought in the so-called "Good War." The Greatest Generation, we're told by Tom Brokaw and others, fought heroically, then returned to America happy, healthy and well-adjusted. They quickly and cheerfully went on with the business of rebuilding their lives.

In this shocking and hauntingly beautiful book, historian Thomas Childers shatters that myth. He interweaves the intimate story of three families—including his own—with a decades' worth of research to paint an entirely new picture of the war's aftermath. Drawing on government documents, interviews, oral histories and diaries, he reveals that 10,000 veterans a month were being diagnosed with psycho-neurotic disorder (now known as PTSD). Alcoholism, homelessness, and unemployment were rampant, leading to a skyrocketing divorce rate. Many veterans bounced back, but their struggle has been lost in a wave of nostalgia that threatens to undermine a new generation of returning soldiers.

Novelistic in its telling and impeccably researched, Childers's book is a stark reminder that the price of war is unimaginably high. The consequences are human, not just political, and the toll can stretch across generations.