Moderators: VanJessica Gladney & Shang (Kaho) Yasuda
Hosted by Clio & The Penn History Department
RSVP here to receive a Zoom link and password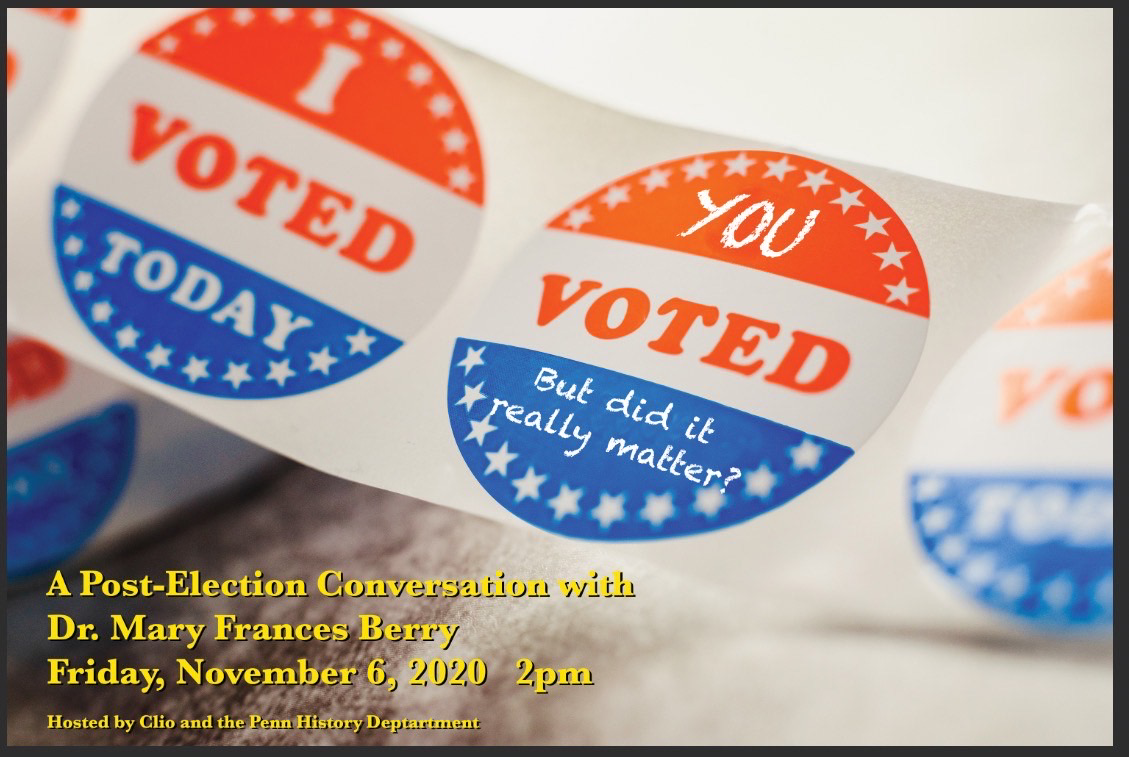 Mary Frances Berry is the Geraldine R. Segal Professor of American Social Thought, Professor of History, at the University of Pennsylvania, where she teaches courses on U.S. constitutional and legal and African-American history. She is the author of many books, including History Teaches Us to Resist: How Progressive Movements Have Succeeded in Challenging Times (2019); Five Dollars and a Pork Chop Sandwich: Vote Buying and the Corruption of Democracy (2016); We Are Who We Say We Are: A Black Family's Search for Home Across the Atlantic World (2014); Power in Words: The Stories behind Barack Obama's Speeches, from the State House to the White House, with Josh Gottheimer (2010); Justice For All: The United States Commission On Civil Rights And the Struggle For Freedom in America (2009); My Face is Black Is True: Callie House and the Struggle for Ex-Slave Reparations (2005); The Pig Farmer's Daughter and Other Tales of American Justice: Episodes of Racism and Sexism in the Courts from 1865 to the Present (1999).
Since her college years at Howard University, Mary Frances Berry has been one of the most visible activists in the cause of civil rights, gender equality and social justice in our nation. Serving as Chairperson of the U.S. Civil Rights Commission, Berry demanded equal rights and liberties for all Americans during four Presidential administrations. A pathbreaker, she also became the first woman to head a major research university, serving at the University of Colorado at Boulder. Berry also served as the principal education official in the U.S. Department of Health, Education and Welfare, working to improve access and quality education in our schools.
In 2013 she was one of the recipients of the Nelson Mandela award from the South African Government for her role in organizing the Free South Africa Movement (FSAM) which helped to end apartheid. She was selected to speak by the South African Government representing FSAM at the national celebration of the life legacy and values of Nelson Mandela, Washington National Cathedral in December 2013.